Air Pipe Dryer
It is very important to control the moisture content of raw material to 15-20% before loading them into the pelleting machine, so sawdust and other kinds of biomass need to be dried.
The whole dryer system consist of fan blower, motor engine, fuel boiler, steel pipe, cyclone and air lock.
The product we offer has been tested  in accordance with the strict standard, and you can rest assured about the product quality.  Moreover, we have professional technician ready to provide scientific solution for you.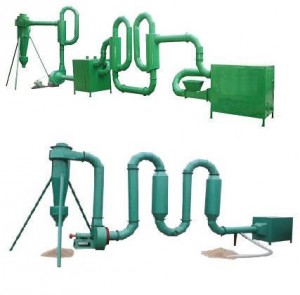 Characteristics:
smooth rotation and continuous drying process.
10 years" manufacturing experience.
excellent drying effect.
strong adaptability to various materials.
sophisticated design.
high output, low consumption and energy saving.
Easy to operate and maintain.
longer service life and stable online casino australia performance.
convenient for transportation.
Model
BHG-I
BHG-II
BHG-III
Capacity(Kg/hr)
200-250
400-500
500-700
Size of Input Material(Diameter)
< 3mm & < 5mm
< 3mm & < 5mm
< 3mm & < 5mm
Consumption of Wood Waste
15-20
25-30
30-35
Power

(

Centrifugal Fan Air Lock)

4kw 1.5kw
5.5kw 1.5kw
7.5kw 1.5kw
Net/Gross Weight
700/800kg
1200/1300kg
1800/1900kg
Dimension(m)
6x2x3.65m
9x2x3.62m
11x2x3.65m
Please contact us for more information.